Bentley Motors Named Presenting Sponsor of 'Sunday in the Park'
LAKEVILLE, Conn. – Murray Smith, chairman of each year's Lime Rock Park Historic Festival, announced that Bentley Motors has teamed with Lime Rock to be presenting sponsor of Sunday in the Park, the annual concours d' elegance on Sam Posey Straight supported by the Gathering of the Marques, an enthusiast meet that sees 800+ collector cars displayed on the remainder of the 1.5-mile circuit.
Sunday in the Park is a signature element of Lime Rock's traditional five-day Historic Festival, and is organized by noted restorer Kent Bain.
.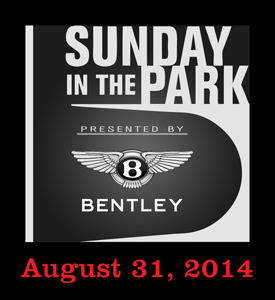 "Bentley is a brand synonymous with the terms heritage and performance," Smith said, "and that makes them a wonderful partner for Lime Rock's concours. Kent goes to great lengths to ensure our Sunday event celebrates both the art of the automobile and the essence of motorsports."
With roots deeply engrained in motorsport, Bentley gained fame in 1924 when it entered – and won – the Le Mans 24 Hours, with a 3-litre car piloted by Capt. John Duff and Frank Clement, changing the course of Bentley history in the process. All told, the company secured five Le Mans victories between 1924 and 1930, forever immortalizing all their drivers, dubbed the "Bentley Boys."
Bain said, "This year celebrates both the 90th anniversary of Bentley's first victory at Le Mans and their much-anticipated return to motorsport with the new Bentley Continental GT3, run by Dyson Racing in Pirelli World Challenge. Bentley's partnership with Sunday in the Park is a synergy not often realized. We are so pleased."
Jon DiVaio, Bentley Motors Regional Marketing & Motorsport Manager, said, "While the brand has enjoyed great success on the racetrack, it also continues to produce the finest automobiles in the world, thanks to unparalleled quality and attention to detail that can only come from the hands of Bentley craftsmen. It is this dedication to company heritage and a passion for performance that continues to drive the new era of Bentley products. With our Sunday in the Park partnership, Bentley Motors joins Lime Rock Park in celebrating its victories of the past, present and future."
Bob Reed of North Kingston, R.I., has entered a 1929 Blower Bentley for the Saturday and Monday historics races, while another '29, the spectacular Ralph Lauren-owned "Birkin" Blower Bentley, will be on show all weekend. And at least a half-dozen Bentleys are expected to be entered into the Sunday concours. Dyson Racing is bringing one of its new Bentley Continental GT3 race cars, too.
Since 1983, the East Coast's premier vintage racing and concours event has been the Historic Festival at Lime Rock Park, held annually over Labor Day weekend. No other venue in the U.S. has three days of on-track racing sandwiching a prestigious concours event all on the same property. Historic Festival 32 is Thursday, August 28 (Race Car Parade presented by Abarth U.S.A.)  through Monday, September 1, while Sunday in the Park is presented by Bentley, August 31. Historic Festival 32 features Honored Guests Sir Stirling Moss & Lady Susie, and a very rare public showing of five cars from Ralph Lauren's personal collection. Schedule: Thursday Vintage Race Car Parade; Friday Practice & Qualifying; Saturday 18 races; Sunday in the Park Concours Presented by Bentley; Monday 18 races. Visit limerockhistorics.com